Steinway Artist Anthony Tobin (Tony) is a classical pianist who has an emerging presence in The Netherlands, Switzerland, Germany, and France.  Rob Haskins, reviewer for the American Record Guide said of Tobin's Debussy CD, Journeys
"We were listening to a fabulous CD of his piano music performed by Tony Tobin—it is one of the best Debussy piano CDs I have ever heard."

2013 solo recital dates include San Antonio TX February 2nd, Arosa Switzerland March 15th, May 24th at Schloss Wartegg, June 6th at WMP Concert Hall in New York, September 22nd performance at Lindengarten in Zurich Switzerland, a November 24th recital at Kulturplatz Wetzikon, Switzerland, and performances in Austin TX.
2012 was an exciting year. Tobin released an all-Debussy CD, recorded and released a Scarlatti, Mozart, and Brahms, CD, had his Debussy film featured by G Henle Verlag at the Frankfurt Musik Messe, lectured and had his film featured during the Georgetown Festival of the Arts at Southwestern Univeristy, was featured on the Steinway Series at TAMIU University in Laredo and returned for an appearance February 1st 2013 to play the role of Beethoven, toured Switzerland in March and again in November 2012, performed an all Debussy program with video and his Debussy film in honor of Debussy's 150th Birthday at WMP Concert Hall in New York.

Tony was featured on "Pianoforte" on KMFA radio Austin Wednesday May 23rd. View the preview.  Listen to the show!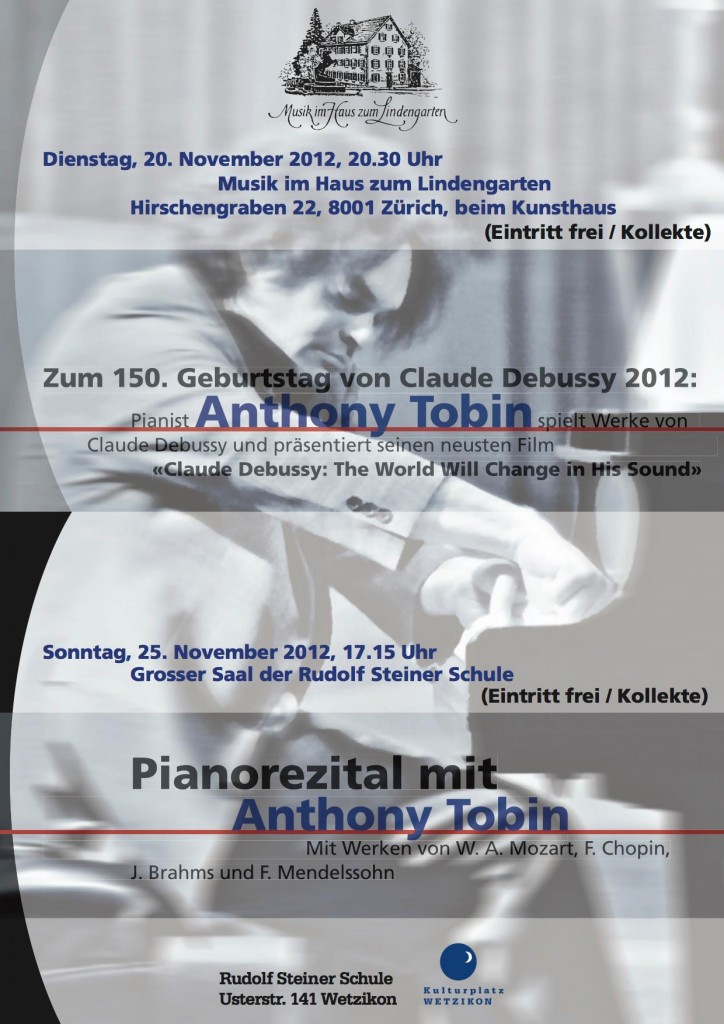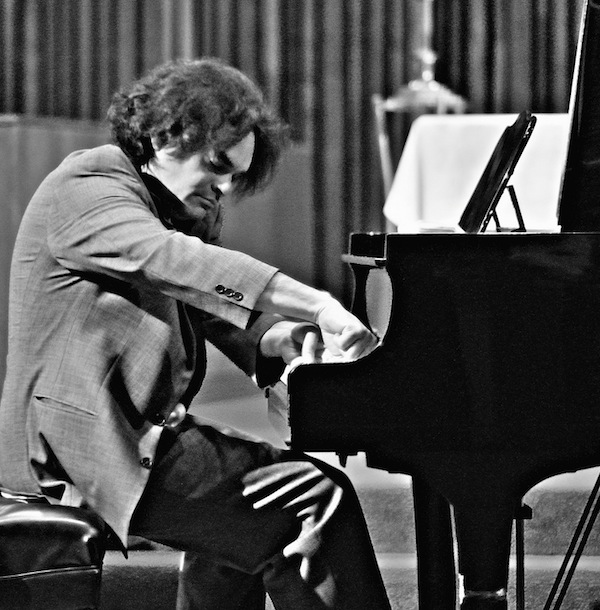 Tobin is on Facebook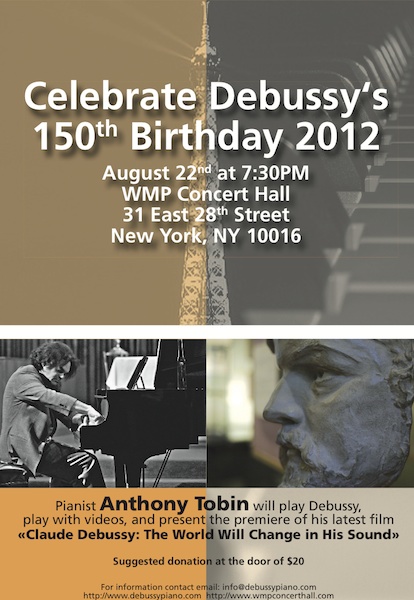 You can watch a couple of the pieces from my CD session on YouTube: The Fairies are Exquisite Dancers The Wind on the Plain
The CD includes:
Clair de Lune, Le vent dans la plaine, Des pas sur la neige, Ondine, Brouillards, Canope, "Général Lavine"—eccentric, La fille aux cheveux de lin, Les fées sont d'exquises danseuses, Les sons et les parfums tournent dans l'air du soir", Les Soirs illuminés par l'ardeur du charbon, Feux d'artifice, La terrasse des audiences du clair de lune, Hommage à S. Pickwick Esg. P.P.M.P.C, La Cathédrale engloutie, Pagodes
November 2011 Tobin gave a presentation on visual aspects of Claude Debussy at the  European Piano Teachers Association national conference in the Netherlands. During that trip he performed duo concerts including Beethoven, Grieg, Debussy, and Pärt with violinist Maurits Bosman, former concertmaster of the Rotterdam Philharmonic.
Tobin is accepting students for Spring 2013 in Austin TX. Contact him for an interview.
Tobin is a also dedicated photographer and videographer and is making two films:
One an experiential documentary on Claude Debussy which has an updated  blog.
Two: a personal narrative and documentary about itinerant workers in Minami-Senju Tokyo and the search for his father.